When the cloud provides your silver lining
The dark clouds of the COVID 19 pandemic can present a silver lining. The adversity caused by one of history's most devastating and disruptive pandemics has extended far beyond the health implications to include lockdowns, supply chain disruption, border restrictions and labour shortages. To respond to this unprecedented challenge, business owners had to reimagine their business. Now is the time to take those ideas and turn them into reality.
"Fresh activity is the only means of overcoming adversity." – Johann Wolfgang von Goethe
Many business owners are familiar with the difficulty of ensuring that business software requirements keep pace with the evolving needs of a rapidly growing business. The fundamental changes in the way you engage and support clients, technological change, incremental process changes made by your team and individual software providers may mean that your existing business applications struggle to provide the functionality or accessibility you require. A cloud-based ERP solution like MYOB Advanced can act as the catalyst that enables your reimagined business; making it more agile, efficient and successful.
The impact of COVID 19 on business
COVID 19 has exposed the inherent weaknesses in many accepted business models. How your team works and interacts, how you attract and retain customers, how you source products or services, logistics, forecasting, everything. Almost every aspect of your business has been exposed to entirely new market forces. The one definite of this pandemic is that business may never be the same. This drives the question, 'how do I ensure my business is in tune with this new business environment?' There is no better time to explore new ways to streamline or automate your business, utilise the collective experiences of your team in to enhance processes, innovate with your suppliers and connect with customers to meet their new expectations.
"There is no education like adversity." – Benjamin Disraeli
Why ERP software in the cloud
Many of us have adjusted to working remotely…and quite successfully. We have also learned that many customers are happy to engage with our businesses and teams through online portals, where they have access to project and order progress, case monitoring or no-touch ordering. You can leverage and experience all of this with a cloud-based ERP software solution.
What is ERP software?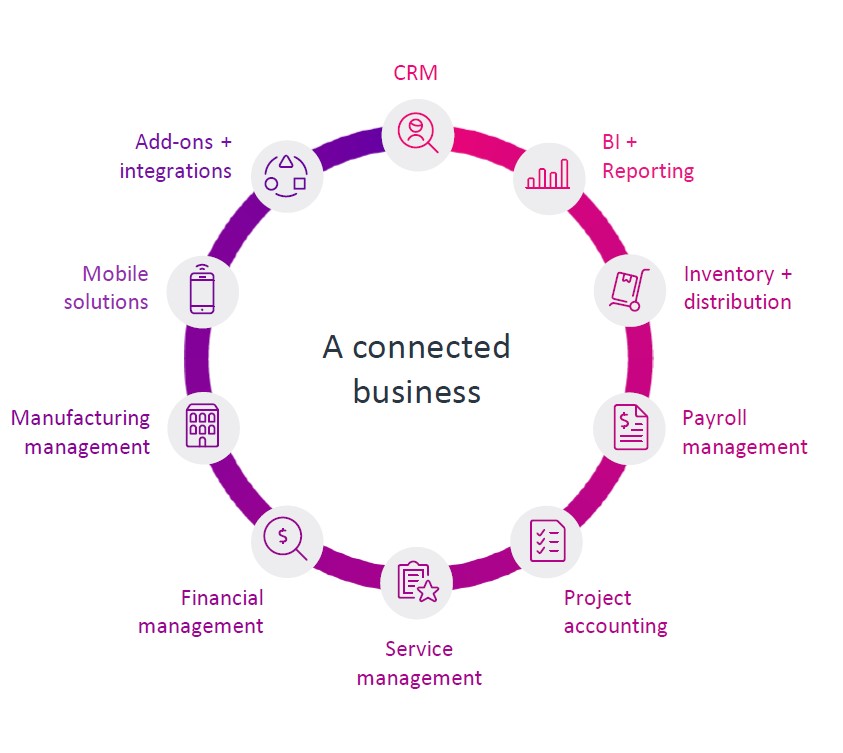 'ERP' is short for "Enterprise Resource Planning". ERP software helps you centralise all your business data. With a cloud-based ERP software solution, your data is more secure and accessible, lowering IT and overall business costs while enhancing collaboration. It becomes your business hub and can assist your clients to engage with you 24/7, 365 days a year.
Scalability
Scaling your business to suit changing business conditions is more straightforward with a cloud-based ERP software solution like MYOB Advanced. Add or remove team members or locations, expand product lines and services; managing your business reach is faster, simpler, and more cost-effective with a solution like MYOB Advanced.
Versatility
Cloud-based ERP software helps bring your business together. It helps you automate and identify ways to streamline resource management, increase visibility and enhance your customer and client experiences. MYOB Advanced provides an ecosystem of industry and requirement-specific solutions that ensure your software is right for your specific needs. You can even add or remove roles or modules as they are required. This versatile modular approach lowers the entry-level costs and timeframes required to launch your business in the cloud.
Invest in your business tools, not IT hardware
Cloud-based ERP software can be securely accessed through any device with internet access. Your team can easily collaborate and work on desktops, laptops, tablets and smartphones. With your controlled permission, your team can access the information they require to work more effectively from their own devices. You won't even need to worry about legacy servers, or "technology creep" as your cloud-based ERP software is always the latest version.
The role of Acclaim
Acclaim is one of the premier ERP software implementation teams in the country. With over 25 years' experience supporting many industries and across countless mid-sized businesses in New Zealand (and overseas), Acclaim is an ideal implementation partner for your business. From understanding your industry and specifically your business's particular opportunities and challenges, to design, implementation, training and ongoing support, Acclaim makes it simple and cost-effective for you to reimagine your business post-COVID 19.
Where to Begin
Begin by having a conversation with Acclaim about your goals and what you want to achieve. Discuss both the challenges and opportunities that have emerged with your business over the past 18 months. Then bring in your wider leadership team to talk about what they would like to achieve. Together with the insights Acclaim can offer, this process will uncover ways to make dramatic changes that improve resource use, free up cash flow and better serve customers and clients. Your re-imagined business can be realised.