The best time to move to Cloud ERP? Now.
As many businesses have refocused during the COVID-19 pandemic, its become increasingly obvious that the market is not what it used to be. Limited resources, tighter timelines, and increasing customer demands are just some of the challenges that even large organisations find hard to overcome.
To respond to this unprecedented challenge, business owners are no longer seeing the move to Cloud ERP as a simple replacement for legacy software. A cloud ERP such as MYOB Advanced has become a critical tool to improve business performance.
The Great Cloud Acceleration
Over the past few years, cloud adoption has exceeding expectations across almost every industry. Businesses that transitioned before the pandemic discovered that working remotely and maintaining productivity was quite straightforward. In some instances, productivity increased more than projected as a result of remote work. This trend has only accelerated over the past two years.
As a result, companies are embracing the cloud, with 48% of companies reporting that they have completed their shift to the cloud (Accenture, 2020) with some aspects still in progress. Around 19% of organisations are also focusing on optimising their cloud landscape to meet the demands of a distributed workforce.
Streamlining a business's operations with cloud-based ERP (Enterprise Resource Planning) software isn't a recent trend, but it continues to be a game-changer. ERP solutions used to have expensive startup fees and hardware expenses. Thankfully, much of that has changed with the introduction of cloud computing.
However, many companies in New Zealand are still using on-premise, legacy systems. As such, they struggle to meet modern business requirements, such as analytics or data-driven processes. And, with many of their workforce experiencing the need to work remotely, these old solutions are increasingly becoming cumbersome or obsolete.
Why Business Improvement should be the focus
Source: Panorama Consulting
While the current emphasis might be directed towards the most obvious challenges of working from home or replacement of legacy systems, its worth refocusing on the key reason most organisations consider Cloud ERP in the first place. Improved Business Performance.
Identify key elements to improving business performance.
Customer Oriented ERP
ERP has long moved from back-office operations, such as inventory or manufacturing, to become a fully-featured solution. Many customer-facing organisations are now taking advantage of ERP systems to gather customer insights and optimise their relationship with customers.
By streamlining backend processes, organisations improve their customer service. For instance, they use ERP to ensure that their inventory meets the ever-changing demands for specific products.
And customers have high expectations when it comes to their sales and online experience. Increasingly customers are demanding the agility of B2B ordering, inventory and accounts look up or customer portal access.
Going Mobile
Mobile applications are an everyday aspect of business. In fact 78% of growing businesses said their employees use mobile devices to access company or work related information when they are away from their computers or working outside the office (Agile Dynamics Solutions, 2020). Additionally, 84% of companies reported that mobile devices are positively affecting their overall productivity.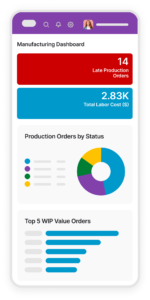 With cloud ERP solutions, availability in the mobile space is just natural. Companies now need to meet the needs of a more mobile and remote workforce. As such, many features of ERP solutions have extending to mobile devices.
Even within company premises, mobile ERP systems are valuable. Push notifications allow key stakeholders and managers to make real-time decisions. The portability of mobile devices makes it easier to capture valuable information on the move, such as time sheets, or on-site photos. Additionally, mobile-exclusive features make data collection easier through camera, geolocation, and fingerprint recognition. This allows companies to capture productivity information that is otherwise difficult to collect.
ERP in the Post-Pandemic World
Supply systems throughout the world have been severely disrupted by Covid-19. There was wild fluctuation in consumer demand and industrial activity throughout 2020 and 2021 due to the fast spread of the virus, which led to industry shutdowns throughout the globe. However, with the rollout of vaccines, many sectors are looking towards recovery.
However, recovery is not without its challenges. Businesses in many different sectors have identified labour shortages and report being unable to employ rapidly enough to meet their growing needs.
In addition, due to the worldwide shortages of goods, some cannot maintain inventory items, or have encountered skyrocketing costs for importing goods into New Zealand.
Solutions to Coronavirus-Related Supply Chain Issues 
While industries are still recovering and adjusting to supply chain issues, enterprises are implementing various measures themselves. In a post-pandemic world, ERP becomes more valuable and strategic. They are particularly focusing on the following solutions:
Smart Manufacturing and Supply Chains – Real-time visibility is essential for companies to effectively manage their supply chains. For example, port delays, weather patterns, and supplier concerns may all be included in their analysis, and they can make course corrections in real-time as a result. Additionally, they have to conduct their production and supply networks with a smaller workforce in order to meet the social distancing standards they have.
Consumer Behaviour Trends – Businesses must contend with everchanging customer data as purchasing habits shift. They must develop the scale required to send smaller quantities of products to an increasing number of locations as well as manage a rise in item returns.
Automation in HR, Finance, and Procurement – Companies want sophisticated automation that depends on fewer but more competent personnel, as well as requiring to work from home or other locations.
Modern ERP systems address these difficulties. Using these tools, companies can monitor sales, inventory, manufacturing, and finances in real-time. Powerful data analytics allow for more agile choices, such as performing supply chain modifications to cope with changing circumstances. ERP solutions that have strong B2B or integration capabilities can help companies better interact with consumers before and after a transaction.