Opmetrix delivers premium mobile sales solutions, enabling the perfect store call.
With over 20 years' experience, Opmetrix brings knowledge, reliable technology and trustworthy cloud-based mobile solutions for sales teams. Working seamlessly with MYOB, Opmetrix delivers results by streamlining workflows, improving communication, and providing visibility. Opmetrix clients are empowered with up to the minute information and statistical data to quickly identify trends and make decisions. The Opmetrix solution works online and offline on Apple, Android and Windows devices.
Being recently appointed as an MYOB Integrated Solution Vendor (ISV), Opmetrix is fully integrated with the MYOB Advanced platform and in addition, Opmetrix operates in offline mode across all the MYOB products.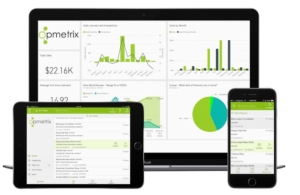 Top reasons why clients choose Opmetrix*
Streamline processes and increase efficiency
Works on and offline
Increase effective field performance management
Optimise data collection in the field
Manage growth
Professionalise their service offering
Introduce cloud-based software to deliver tasks in the field
*According to an Opmetrix Customer Insights Survey November 2016
In addition to being able to process sales transactions in the field, Acclaim customers can effectively manage their mobile sales teams to maximise productivity, efficiency, and performance, delivering The Perfect Store Call every time.
Opmetrix enables the Perfect Store Call.